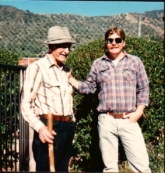 music to live by
My grandfather, Ralph, and me after
a hike in the early 80's
When we were young my grandfather would take us on hikes up Little Dalton canyon of the San Gabriel Mountains.
My grandfather, Ralph, first came to California in 1929. At that time he was hired, along with another young man, to build a cabin in the San Gabriel Mountains near Crystal Lake. Although the adventure did not turn out quite as planned, the cabin burned down due to an unattended fire, it embedded in my grandfather a love for the local San Gabriel Mountains.
Although my grandfather was not an environmentalist he was a staunch conservative (registered Democrat so he could vote for the least likely Democratic candidate to win). Ralph, my grandfather, taught me to be conservative. His type of conservation was a quite different type from what it means to be a conservative now. He believed in conserving resources and getting every little bit of use out of each possession. (He wore thread bear undershirts to get every little bit of value he could out of them).
My grandfather started something that I never got enough of, exploring natural places.
I love the mountains.
As a young boy I was able to get on my bike, ride to the mountains and go on an adventure of exploration.
I have backpacked and hiked many places in the High Sierras of the Sierra Nevada mountain range. I usually go to the area of the High Sierras that is sandwiched between the Sequoia / Kings Canyon National Parks and Yosemite National Park. I have been to Sequoia / Kings Canyon National Parks and Yosemite National Park many times especially when my boys were young.

I have not spent to much time in the northern Sierras but have camped and explored in the northern Sierras of Placer, El Dorado, Nevada and Sierra counties. I have also camped at Lassen but that is really not the Sierra anymore.
I love canoeing.
I take the canoe along any time that I will be near small lakes on which only canoes or trolling motors are allowed.
Me and the canoe do not get along with jet skies and large boats. One time we decided to paddle from Laughlin to Needles. We found out that the jet skiers do not take to kindly to natural adventurer types. One jet skier nearly went through the canoe and did swamp us. They got a good laugh. I have had an intense dislike for jet skiers since then.

Another time we decided to paddle from Needles to Lake Havasu City. We were enjoying the trip paddling into backwaters watching the ducks, egrets and herons. At one point we made a wrong turn though. We did not know that down the waterway we were following was a large sand dune where the locals gathered to party and slide. The locals used a water pump to shoot water unto a sheet of plastic laid on the sand dune. They then slid down it like a giant water slide. Looked like fun but we quickly found out as outsiders we were not welcome. They threw beer cans at us and jumped off the back of their boats to try to swamp us. They acted like the barbarians that adhere to the cult of materialistic consumerism act - uncivilized.
I love the desert.
I have always trekked to the desert in the early spring after the rains have come.
This is the best time to see the wildflowers and the weather is usually milder, not too hot as in the summer or too cold as in the winter. We used to camp at Joshua Tree quite frequently but now typically only backpack as the conversion to a National Park (with the ensuing onslaught of motor homes with loud generators) and an influx of rock climbers has made finding a campsite nearly impossible and not worth the effort.
I now prefer to go to the east Mohave National Preserve to camp.
The Mohave National Preserve is still relatively untrammeled but since it has been turned into a National Preserve federal government "improvements", rules and regulations are eroding the freedom it once afforded. Still it is possible to find places were one can just pull off the road and camp.

I have a favorite place in a pinon pine forest that of last spring was still a great place to camp away from "improved" campgrounds but there is no way I am letting my secret out.

The last time we went to the Mohave National Preserve we camped at the base of the New York Mountains.


Copyright © Lawrence Turner
All Rights Reserved