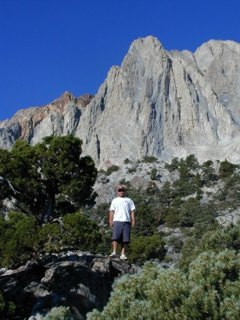 Will Palmer at Convict Lake
Over the years we have been to Convict Lake many times.
Typically we would stay down the road at French Camp on Rock Creek and just come up and spend the day at Convict Lake.
We learned that if we arrived early to the day use area we could get a parking place from which I could carry the canoe to the water conveniently. We would launch the canoe and paddle across the lake.
At the other end the streams from above comes in. As well there is forested area in which deer live and can be frequently viewed.
You can hike up the streams but after a while they become too steep to safely navigate.
There are trails that lead into the back country as well.
We have arrived early one day on the shore at the far end, a part of which is meadow, strung hammocks, read, dozed and idled away the day.
On one occasion I had settled myself in when I happened to raise my eyes to the yellow jacket nest in the tree above my feet. I thought that as long as I did not move around too much I would be alright as I was clean from a shower.
The yellow jackets never bothered me but they got bothered. As I was basically an unmoving hanging lump the birds were not afraid.
Shortly, as I lay there reading, a woodpecker happened along. It seems that he followed one yellow jacket back to his nest. The woodpecker swallowed four yellow jackets before the yellow jackets knew what hit them. The rest of the yellow jackets scattered and the woodpecker flew to a nearby tree within sight of the yellow jacket nest. He repeated this performance three times before getting his fill of yellow jackets. I was grateful for the woodpecker reduction of yellow jackets and had enjoyed watching him perform his trickery.