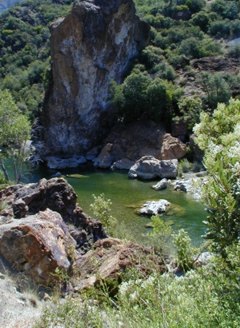 Red Rocks
Red Rocks is the name that the locals call the nearest pool of the Santa Ynez River at the end of Paradise Road.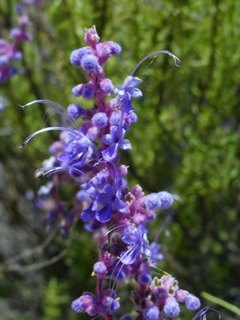 Two types of sage that grow in the Santa Ynez river canyon
When I lived in Buellton and attended Santa Barbara City College I drove over Cachuma Pass nearly every day. Once you reach the top of the pass and begin to descend the other side of the mountain range the Santa Ynez Valley's upper reaches are spread out before you. The Santa Ynez valley has one of the best microclimates on Earth. The mountain range that separates the Santa Ynez valley from the Pacific Ocean is the only mountain range on the California coast that runs in an east to west direction. This creates an excellent microclimate in Santa Barbara as the mountains absorb the direct rays of the sun. As well the Pacific Ocean in the Santa Barbara area is protected by the channel islands and the water is considerably warmer than the water found just north of Point Conception, which is the farthest west point of land on the California coast.
Although Red Rocks is the name that most people know this stretch of river by there is only one swimming hole that has red rocks. This swimming hole is the nearest to the road's end and it is also the one that you find the kids with beer.
I prefer to hike considerably farther up the canyon where two other excellent swimming holes make the red rock hole look small. It is quite a long hike to the first of these swimming holes from the paved road's end.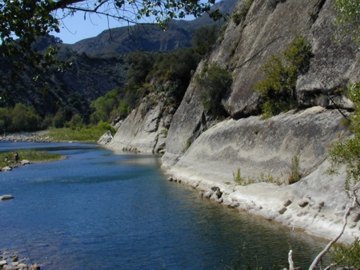 The first pool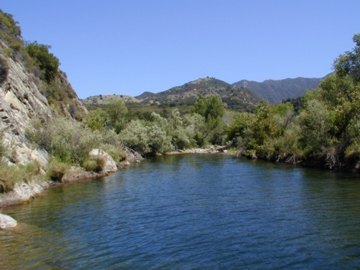 The second pool
The canyon is shaped like a huge horseshoe. As the crow files the first of these holes is not much farther than the red rock hole. When I lived in the area I would follow the fire road at the paved road's end to the top of the ridge, skip the horse shoe part of the canyon and descend from the ridge on a deer trail to the canyon floor. And, how convenient, I would arrive on the canyon floor at this first large pool.
I assume the deer trail, which I spent the time to wack back with a machete in 1982, would have long ago overgrown. I have not used the deer trial since 1985.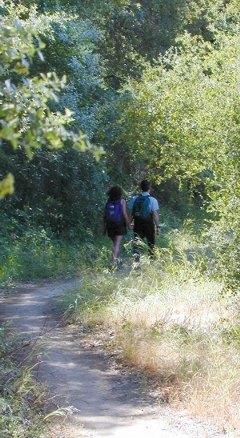 Ron and Les walking home after a day spent swimming and lazing in the sun.